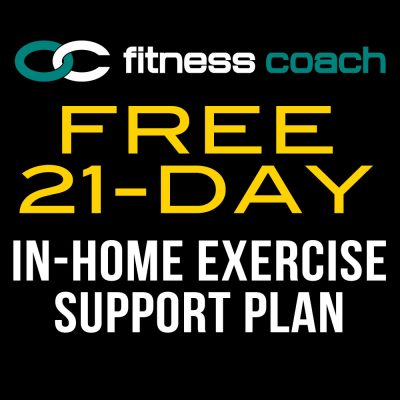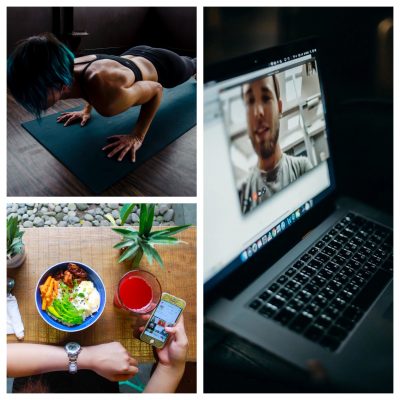 OC Fitness Coach is proud to sponsor this challenge, which is a FREE, stay-at-home, gym-free solution to help anyone regardless of age or condition with their health and fitness goals.  We have been operating in Orange County, Mission Viejo specifically, for over 10 years now and want to give back to the community that built us and has helped us get to where we are today.  If everyone stays grounded, and remains physically and mentally well, then the community will continue to thrive.  We will customize a workout routine specific to you that can be done in the convenience of your own home, with whatever equipment you have available.  No equipment is fine.  Stay Fit!  Have Fun!  Meet New Locals (virtually)!  At Home!  FOR FREE! 
The OC Fitness Coach Challenge will accommodate both your current exercise level and injury history.  The challenge offers support and accountability by encouraging (optional) social connections through Facebook groups, Zoom meetings and other social media (distancing) platforms.  This is a great way to get in shape, stay active, and meet new virtual fitness friends.
This is AN ENTIRELY FREE SERVICE TO ANYONE.  THERE ARE NO STRINGS ATTACHED.  ALL WE ASK IS THAT YOU SHARE THIS FITNESS CHALLENGE WITH EVERYONE YOU KNOW AND ENCOURAGE THEM TO JOIN YOU. 
SUMMARY
*Workouts are done in the comfort of your own home to maintain social distancing.
*Workouts are individually designed for you by the OC Fitness Coach team based on your fitness level and available equipment. Again, no equipment is fine.
*OC Fitness Coach will provide you with nutritional guidance to source the best available nutrition options despite crowded grocery stores.
*We are aiming to have a social media group designated for all participants in this challenge and encourage everyone to brainstorm and collaborate with other group members where you can share your ideas, strategies, goals/results, recipes and really anything at all while the stay-home order is in effect
*Clients will fill out a weekly survey (CLICK HERE) that are reviewed by our coaches, to make sure you are sticking to the plan.
*NO COST TO JOIN OR PARTICIPATE! 100% FREE
HOW DO YOU GET STARTED?

STEP 1:
A brief 15 minute consultation with one of our coaches to see if you are a good fit for the fitness challenge.  During this consultation, we will go over prior exercise and injury history, your current nutrition, exercise equipment available (if any) at your home and home set-up.  We can do this via phone or Zoom.
STEP 2:
Receive a customized fitness program (sample below) based on specifics discussed during the phone consultation as well as access to outdoor parks, walking paths, tracks.  Receive nutritional guidance, support and feedback weekly from our Nutritionist/Owner Dan Tatro, M.S.
STEP 3:
Connect with others online via our private facebook group. (Individuals can also plan zoom meetings, zoom parties, fitness and nutrition discussions and establish accountability partners). Not necessary if you are not on social media.
STEP 4:
Every Friday – Fill out our weekly survey with coach feedback tips and reminders.
STEP 5:
Post challenge call with owner Dan Tatro-M.S.-CSCS to determine your next steps.
It is important to have control of your exercise and physical activity during this time where we have had a lot of our freedoms taken away.  I recently wrote a blog post explaining how fitness kept me physically and mentally well during stress in Afghanistan. If you are going stir crazy, and wondering how to best support your physical and mental well-being, this challenge is for you.
Sample workout plan with weekly schedule below: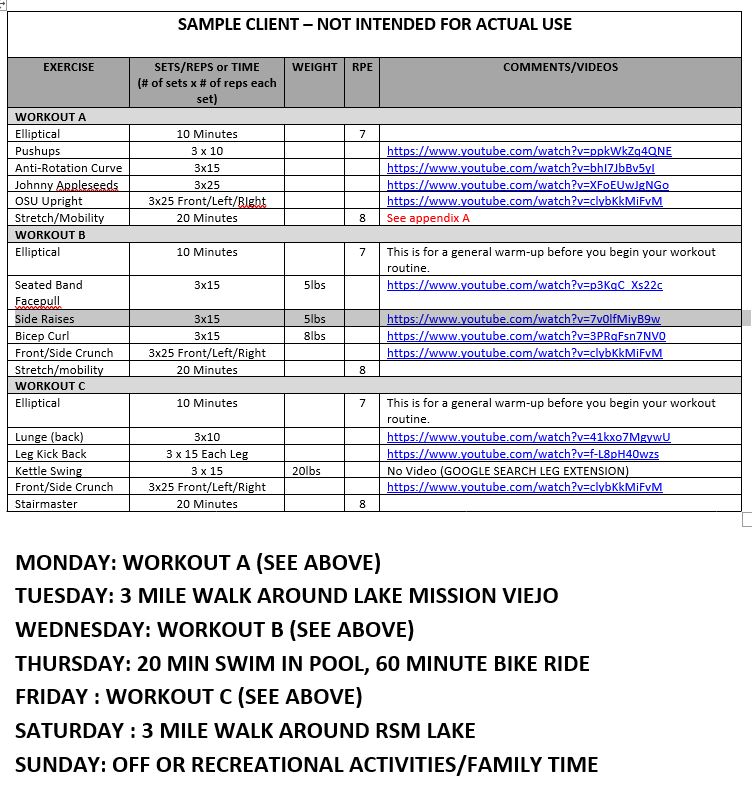 YouTube videos for clarification and exercise form: